This morning I took my coffee cup out into the dusting of snow as a way of greeting the glittery part of winter. The grey skies, dark trees, and muddy ground of the last few days have been the oppressive grit of the season. I love that a mug, this simple everyday object that I can overlook, can also make me think about the landscape. It can remind me of the horizon line and the winter view. It can get me contemplating drinking coffee in Australia; how I loved the short coffee breaks we took with Ben and Peta both in their house and out on adventures all over Tasmania looking at clay, rocks and views.
The simple fact of drinking coffee brings me back to my first trip to France and my initial day in Aix en Provence where I learned to love coffee. These little acts that can start or become unexamined habits can be returned to the realm of transformative experiences. They can wake me up and provoke me to pay attention to all the sparkling details. Today, in the snow each pale twisting vine was highlighted by a thin pile of snow. The light reflected by the white made the ship of the sky so blue and so welcome as a great relief from the rain.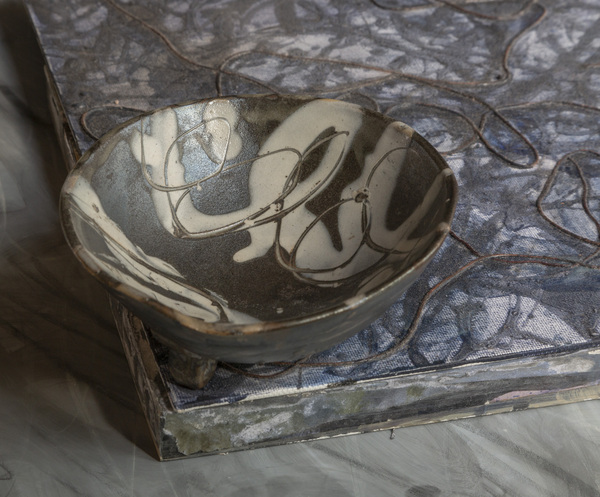 Last night, an owl
in the blue dark
tossed
an indeterminate number
of carefully shaped sounds into
the world, in which,
a quarter of a mile away, I happened
to be standing.
I couldn't tell
which one it was -
the barred or the great-horned
ship of the air -
it was that distant. But, anyway,
aren't there moments
that are better than knowing something,
and sweeter? Snow was falling,
so much like stars
filling the dark trees
that one could easily imagine
its reason for being was nothing more
than prettiness. I suppose
if this were someone else's story
they would have insisted on knowing
whatever is knowable - would have hurried
over the fields
to name it - the owl, I mean.
But it's mine, this poem of the night,
and I just stood there, listening and holding out
my hands to the soft glitter
falling through the air. I love this world,
but not for its answers.
And I wish good luck to the owl,
whatever its name -
and I wish great welcome to the snow,
whatever its severe and comfortless
and beautiful meaning.

-- Snowy Night by Mary Oliver