Happy Valentines 2015! cw & wf
I found a letter my daughter wrote home when she was in college. It thanked Warren and I for teaching her that Valentines Day was about love in general, love for all our family and friends not just love as in a couple. She was feeling sad and left out of couple-hood that day and wished she was home in our family circle of love.
Holiday cards have been like pocket poems in my family. Both my mother and father sent postcards with humorous or heartfelt images for Christmas, Valentines Day, St Patrick's Day and Easter. They were mostly visual but sometimes included a poem and now I look back at them and find little gifts of loneliness as well as smiles and sighs.
My father was always ready with his camera to document all of our blunders and absurdities. When I was cleaning in the studio I moved a portfolio of his images from a huge folder to a print drawer and was reminded of his vision and humor as he made us pose holding up brooms and signs. He sent out these funny holiday cards as a way to focus and show his work and share his vision. As I run into his acquaintances, old friends and distant family they all tell me how much they loved and miss his cards. I miss his cards and did not get it together to send out an Xmas card for 2014. So the above card is for a Happy Valentines Day in 2015!
This card is a monotype by my mother. Mom died ten years ago and I am not sure what year this is from. Several years after my mother died my father dated a woman for about a year. After she broke up with him Dad made the following valentine which broke my heart, but maybe made him feel better.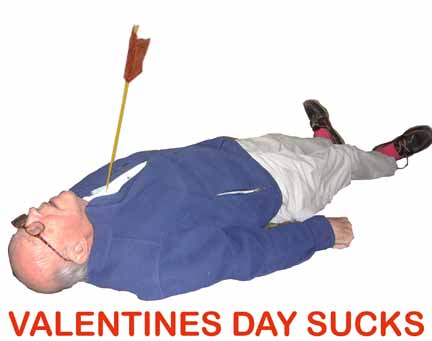 Dad only wore red socks, and this was his final Valentines Day card sent to me via email: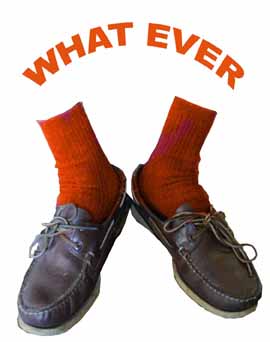 Pocket poem
If this comes creased and creased again and soiled

as if I'd opened it a thousand times

to see if what I'd written here was right,

it's all because I looked too long for you

to put it in your pocket. Midnight says

the little gifts of loneliness come wrapped

by nervous fingers. What I wanted this

to say was that I want to be so close

that when you find it, it is warm from me.
--Ted Kooser, "Pocket Poem" Valentines: Poems
(University of Nebraska Press, 2008)